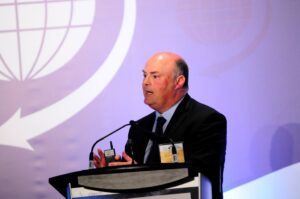 "Ribera Salud es la única empresa española presente en la 18ª Conferencia Anual del Foro Económico de las Américas celebrado en Montreal", así titulamos la nota de prensa emitida hace unos días (ver nota de prensa).
Además de ser la única representación española en este importante foro, me siento doblemente orgulloso, por el altísimo nivel de los participantes, entre los que se encontraban Alan Greenspan, Ex Presidente de la Reserva Federal de EEUU, Christian Noyer, Gobernador del Banco de Francia; Luis Alberto Moreno, Presidente del Banco Interamericano de Desarrollo, Mark Zandi, Director Económico de Moody's Analytics; Haruiko Kuroda, Presidente del Banco de Desarrollo Asiático; Jose Miguel Insulza, Secretario General Organización de EE.UU o Sri Mulyani Indrawati, Director del Banco Mundial, entre otros.
Comencé mi conferencia diciendo que en estos momentos en los que la situación económica española es centro de debate en todos los organismos internacionales, quería presentarme en este foro aportando una visión de España innovadora, moderna, pionera y que propone alternativas para colaborar en la sostenibilidad del modelo sanitario que es un problema, no solo de España, sino internacional.
Creo que hay empresas españolas que no solamente son competitivas sino que son líderes y referentes en sus sectores a nivel mundial. Empresas como Zara, Banco Santander, Mercadona, El Corte Inglés, Iberdrola… (solo por citar algunas). Pero creo que hace falta que dentro del sector sanitario nos demos cuenta que tenemos una experiencia y un conocimiento acumulado que puede ser de extraordinario valor en el contexto internacional.
Desde Ribera Salud ya lo hemos dicho en múltiples ocasiones, y lo reitero ahora, creemos que hemos de poner en valor la experiencia del modelo sanitario español en general y del Modelo Alzira en particular, como un hito en un momento de dificultades económicas como el actual.
A la experiencia en el Foro de Montreal, de Londres, de Manchester o de Amsterdam, uniremos en las próximas semanas nuestra presencia en el Capital Projects & Infrastructure Summit de Peru, el Korea Health Congress o el Congreso Internacional de Administradores y Directivos Sanitarios de Méjico.
Alzira Model in Canada
"Ribera Salud is the only Spanish company which participated in the 18th Annual Conference of the International Economic Forum of the Americas, which took place in Montreal", this was the title of the press release published some days ago.
Apart from being the only Spanish Company in this important forum, I feel very proud of the high level of the participants: Alan Greenspan, Former Chairman from Federal Reserve (FED) (United States); Christian Noyer, Governor from Bank of France, and Chairman from Bank for International Settlements (BIS); Luis Alberto Moreno, President of the Inter-American Development Bank (IDB); Mark Zandi, Chief Economist from Moody's Analytic's; Haruiko Kuroda, President of the Asian Development Bank; Jose Miguel Insulza, Secretary General, Organization of American States (OAS) or Sri Mulyani Indrawati, World Bank Manager, amongst others….
I started my lecture mentioning that in these difficult moments where all the discussions and debates in the international organizations are focused on the Spanish economic situation, I wanted to participate in this forum contributing a new vision of an innovative, modern, and pioneering Spain, which proposes different options of collaboration in the healthcare model sustainability, which is a real problem not only in Spain but in the rest of the world.
I consider that the Spanish companies are not only competitive but also leaders in their sectors worldwide. Companies such as Zara, Banco Santander, Mercadona, El Corte Inglés, Iberdrola… (just to mention a few). But I believe it's necessary to realize within the healthcare sector, that we have an experience and know-how extraordinarily useful in the international context.
Ribera Salud constantly repeats, that we must value the Spanish healthcare model, and particularly the Alzira Model, as a milestone in bad times.
To the other experiences such as Montreal, London, Manchester or Amsterdam, we'll join our presence in Lima (Perú), taking part in the Capital Projects & Infrastructure Summit, or the Korea Health Congress, or the International Congress of Healthcare Managers in Mexico in the coming months.
---